Plastic six pack ring producer Hi-Cone has partnered with recycling firm TerraCycle to launch the UK's first national recycling scheme for the packaging.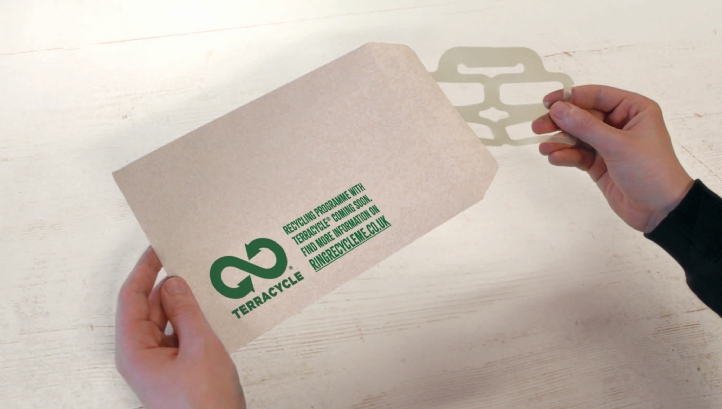 Under the scheme, TerraCycle has developed a method of recycling the six pack rings, which are not collected by the majority of local authorities due to a lack of suitable recycling infrastructure for flexible plastics.
TerraCycle's solution involves washing, separating and shredding the items before melting them and forming them into plastic pellets. The pellets are then remoulded for inclusion in new plastic products.
In order to collect a consistent stream of used six pack rings for reprocessing, TerraCycle and Hi-Cone are urging community groups, schools, charities, individual consumers and retailers across the UK to host packaging take-back points, where consumers can drop off end-of-life rings. The locations of these points will be made publicly available via a digital map, with consumers unable to access a collection location encouraged to post their used packaging to TerraCycle free of charge.
Crucially, the scheme will accept packaging from all brands and packaging producers, to ensure it has the maximum reach possible.
The scheme is due to be launched in May, but an exact date and target for the number of collection points due to be set up pre-launch have not yet been confirmed. If the initiative proves successful, Hi-Cone has pledged to assess the feasibility of introducing a similar initiative across its markets in the UK and mainland Europe.
"It is vital that packaging producers take the lead in pushing sustainable programmes forward, and that is why we have stepped in at this stage of our own journey to champion this process with TerraCycle," Hi-Cone's president T. Kenneth Escoe said.
"We are extremely excited to be launching this new initiative, which means that our product is now fully recyclable in the UK. Moving forward, our goal is to recover and reuse as many plastic ring carriers as possible worldwide and the TerraCycle partnership helps us to achieve that."
The partnership builds on Hi-Cone's wider packaging strategy, which includes a commitment to ensure that all ring carriers are 100% recyclable or compostable across all its markets by 2025. The company supplies such packaging to more than a dozen big-name beverage brands, including PepsiCo, the Coca-Cola Company, Diageo and AB InBev.
Packaging partnerships
The scheme is the latest in a string of recycling campaigns which have seen TerraCycle partner with businesses in the UK of late. The firm has forged new partnerships with Mars Petcare, Colgate Palmolive, Kellogg and Acuvue in recent months, launching schemes targeting pet food packaging, oral healthcare products, Pringles cans and contact lenses.
TerraCycle is also working with Pepsico subsidiary Walkers to run the UK's first nationwide collection scheme for crisp packets, and this week revealed that more than 500,000 packets have been collected since December 2018. Similarly, the recycling firm also co-operates a biscuit packet recycling programme with confectionary giant pladis UK & Ireland.
According to TerraCycle Europe's general manager Laure Cucuron, the firm has launched recycling schemes across 21 countries to date, which collectively engage around 80 million people. These initiatives have diverted more than 55 million items from landfill.
"Typically, these programmes are funded by brands or municipalities," Cucuron said. "It is therefore very refreshing to have a packaging manufacturer such as Hi-Cone engaging with us and taking responsibility for the materials it sends into circulation."